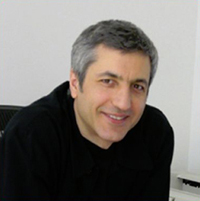 Ayhan Ozan, AIA (Principal at Chelsea Atelier Architects) is an architect and urban planner with over 26 years of professional experience in the design and construction field in the United States and abroad. His portfolio includes a diverse sampling of projects ranging from small and intimate projects such as playgrounds, high-end residential architecture, to complex ones such as airport passenger terminal facilities.
Prior to establishing Chelsea Atelier Architects, Mr. Ozan served successfully in the aviation architecture field for 15 years, and acquired a highly specialized knowledge and broad experience in airport design. First as vice president at William Nicholas Bodouva, and later as associate principal at Khon Pedersen Fox, he participated in the design and construction management of four major airport passenger terminals around the country. While active in the field, he established significant contacts with public and private clients, and with major engineering and consultant firms around the country. Mr. Ozan has participated in two major international airport design competitions abroad and won an honorary award for one project.
Mr. Ozan left KPF to form Chelsea Atelier Architects, in early 2002 where he has successfully transfused his serene sense of design enhanced by the use of contemporary elements with carefully selected and subtly referenced cultural and contextual inspirations. In addition to several articles published in architectural magazines, his projects are also published in interior and design books. Mr. Ozan studied at Carnegie Mellon University where he earned his master's degree in architecture and holds a bachelor's degree in urban planning. He is registered in the states of New York, New Jersey, and Pennsylvania, is an AIA member, and has served in the Transportation Committee for AIA New York Chapter.